Geneva Motor Show 2015 – The Alternative Awards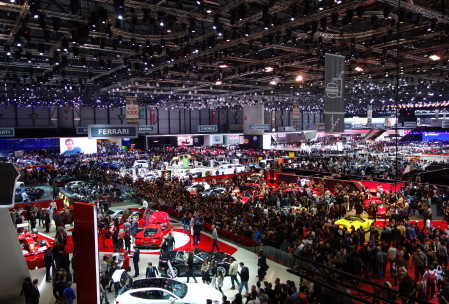 It seems the 2014 Paris motor show was only yesterday, but here we are, in Geneva, for the 2015 Auto Salon. You can tell you're not at the Paris show, as a DIY-assembly hot dog sausage next to a bun costs an extortionate amount of some currency that I don't understand, and, since Geneva isn't home ground for French OEM's, the range of pepper mills available in the Peugeot merchandise store is rather poor.
Many new exciting things were revealed by many slightly less exciting OEM execs, and exciting concept cars alongside less exciting production cars filled the exhibition centre. As a result, it was a tough contest, with the winners as follows:
Category: Safest Car
Winner: Rinspeed Budii
In our only return category of the awards, the clear winner is the autonomous Rinspeed Budii, with its steering wheel mounted on what appears to be an automotive body assembly robot. The "friend on wheels" will drive itself avoiding pedestrians, trees, other cars, and asylum seekers around Calais. To ensure your safety, the Rinspeed team have conveniently provided a matching crash helmet for when you upset your "friend on wheels" by cheating on it with a Porsche Boxster.
Category: Most Prominent Wiper Heating Element
Winner: Jeep Cherokee
In an attempt to up their feature count, the Jeep Cherokee proudly wears hazmat-warning-yellow windscreen wiper heating elements for the world to marvel at. Obscuring such a beautiful feature with ugly windscreen wipers would have been unacceptable to the designers, so instead the wipers are parked some way away from the heating elements, thus rendering the feature functionally useless.
Category: The Most Powerful Letter Award
Winner: BMW letter "M"
BMW cleverly anticipated this award while all the other OEM's were caught with their pants down and failed to enter any letters into the competition. This news was welcomed by the BMW 320d Drivers Association who said: "This is clear validation, as we had been convinced all along, that adding an M badge to shitty base spec diesel BMWs makes them more powerful"
Category: Underbonnet Reservoir Cap Colour Matching
Winner: Toyota GT86
Japanese attention to detail (and complete overlooking of more important things) is clearly demonstrated on the GT86, where Toyota have done away with niceties such as an engine cover, or conveniences like a gas strut to hold the bonnet open. Instead, they focused their efforts on making sure that all the many reservoirs have matching yellow caps. The OCD-endowed man responsible even put in a late night with a printer and a marker pen, so that the paint-marked bolts and assorted labels also match the yellow reservoir caps.
Category: Safest Dwarf Storage Device
Winner: Dodge Ram Pickup
If you've ever wanted to transport a dwarf or two without taking up useful cabin space, the truck bed side lockers in a Dodge Ram Pickup are just the ticket. While I have my reservations about their volume, I imagine a strategically shaped dwarf could, if bent in the L position of a Tetris piece, be placed in each locker.
Inside, he would find a switch for the interior light, and an internal latch release handle in case he starts to feel a tad claustrophobic. Dwarf kidnappers should look elsewhere.
Category: Best Correlated Windscreen Wiper/Driven Axle Upgrade
Winner: Kahn Huntsman 6×6
The Hahn Kuntsman is a Defender with 3 driven axles that looks a bit elongated, like a dachsund. Naturally, going from 2 to 3 axles would be utter lunacy if they hadn't also thought of upping the number of windscreen wipers by 50%. It seems there is a lot of rain in Bradford. Or Kahn just got the idea by constantly observing the Morgan stand opposite them every year.
Category: Most Inappropriately Coloured Duster Award
Winner: Aston Martin
I thought of giving this award to a bright purple coloured Dacia, but it seems their colour palette is inoffensively Audi-like (i.e. boring), so this year the award is an actual duster, not a Duster. With all sorts of riff-raff being allowed to grope, stroke, and otherwise inappropriately touch some really rather expensive and exclusive bodywork, motor shows are full of workers with dusters, swarming over cars to stop them looking like a forensic crime scene being scanned for fingerprints. Aston Martin employed a worker, armed with a multicoloured duster, presumably purchased from Poundland, to dust their "exclusively coloured" white and yellow Vanquish, causing a colour clash even Stevie Wonder would be offended by.
Category: Best of British
Winner: Kahn
In a rare event, Kahn have scooped up their second award this year. British manufacturers were well represented this year. Morgan were busy showing off their carpentry skills, JLR had some history blurbs about someone drawing a lego brick in the sand 70 years ago and then just copying a Jeep, Bentley had a giant wall-mounted union jack made of driftwood to convince us they are not a German Car of the People, and Rolls Royce drew some flowers on a Phantom in an attempt to continue its lifecycle. However, none of them were as British as Kahn, who hired a man of unknown origins, and dressed him head to toe in a primary school rendition of an Agatha Christie novel, with the sole purpose of standing next to their Hunstman and looking British. Sources suggest they've already found a man in a beefeater outfit for next year.
Category: Loneliest Component Award
Winner: RUF shock absorber
Runner up: Startech bumper corner
Motor shows are normally great fun for people of all ages, for families, and for automotive components, who get to spend time in the company of other automotive components. Occasionally, there are outcasts, and this year was no different. It was a close call between the Startech bumper and the RUF shock absorber, both appearing rather unsociable. However, the Startech bumper corner made friends with a rogue fire extinguisher, leaving the RUF shock aborber as the undisputed champion.
Category: Sanitary Towel Shaped Headrest Award
Winner: Citroen C4 Picasso
Bringing a whole new meaning to headrest wings, the Citroen Picasso promises to allow women to sleep in total comfort, all night long, while inducing inexplicable awkwardness in most men.
Category: Most Perplexing Manufacturer Name
Winner: DFSK
There's a lot of new manufacturers these days. Quant, Qoros, Roding. This is good news for the blooming automotive industry. Occasionally though, companies struggle for a name, as demonstrated by China's DFSK. I imagine the name was created when the CEO received an email from the chief designer containing the production sketches of this unfathomable model above, at which point the rather unhappy CEO smashed down onto his keyboard in anger, triggering Capslock, and typing out a sequence of incomprehensible letters.
Category: The Umbrella Award
Winner: VAG group
While Kahn's answer to excessive rain is adding additional windscreen wipers, VAG were all about the umbrellas. The new Skoda Superb has not one, but two umbrella holders in the front doors, a fact that Skoda was very proud of and promptly displayed on a wall, above some branded umbrellas… …that didn't fit into the umbrella holders. VW were keen to demonstrate how happy and joyful your life would be if you were to purchase one of their umbrellas from the merchandise shop, and proceeded to prance around like a headless imbecile.
Category: Most Secure Boot
Winner: Bentley EXP10
Switzerland is a country of finance. This means that people have valuable things in valuable bags that they wish to remain secure. Bentley showed their latest concept with a unique security feature – the boot has no tailgate. Nor do the seats tilt. In fact, Bentley's EXP10 is not so much a car as a vault that is assembled around whichever gym bag you want to sit on the parcel shelf, in total view of the world, never to be accessed.
Category: The Facepalm Award
Winner: Toyota Land Cruiser V8 Third Row Seat
Normally this award would be reserved for a stupid feature, such as the Bentley's boot above, that would have us facepalming till next year. However, this year, the award was scooped up by a third row seat in a Toyota Land Cruiser. It seems that the seats themselves are so fed up of the agricultural folding mechanism, that the cartoon graphic on the label clearly depicts the left-hand side rear seat facepalming itself, ashamed by its own complexity.
Category: Exclusivity
Winner: Lancia Ypsilon
Motor shows are a great way to get up close to some very exclusive automobiles, such as limited edition Bugatti Veyrons, Ferraris and Lamborghinis. However, this year's most exclusive car, on a spacious and entirely empty stand where the staff outnumbered potential customers by a ratio of approximately 2:1 (thus eclipsing even Bentley and Rolls Royce) was the Lancia Ypsilon. I'm not sure whether Lancia make anything else these days, and I'm not sure what an Ypsilon actually is, although given Lancia's tradition of naming their cars after Greek letters, one that sounds like it starts with "Oops" seems rather apt for a car that nobody even wants to look at.
Categories: Uncategorized