Geneva Motor Show 2014 – The Alternative Awards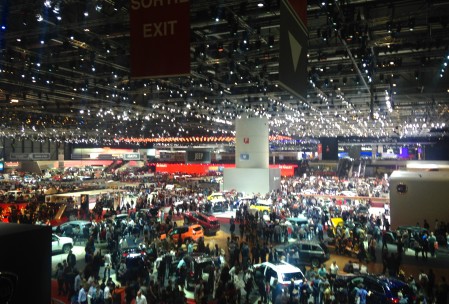 The sun has set on yet another motor show (or "auto salon") – Geneva 2014.
Some fantastic displays by the world's manufacturers, including such automotive marvels as the Tata Zest, some Ferraris, and a selection of hot dogs.
But I know that what you're really interested in are the slightly unofficial Alternative Awards. The competition in some categories was fiercely hot this year, so the judges had their work cut out for them.
Category: Safest Car
Winner: Ford Mustang Prototype
Most cars these days feature driver, passenger, side, top, bottom, bollocks and kidney protection airbags. But Ford have gone one step further and have locked this prototype. For your protection.
Category: Most Talented Display
Winner: Jeep
Tired of building substandard cars, Jeep have decided to steal the show by hiring the best looking staff. Employing impartial and unbiased third party opinions, I can confirm that this was a genuine display of high standards, and not just because they looked good in comparison to the cars.
Category: Best Car-inspired Job
Winner: Dacia Duster
The Dacia Duster has taken the world by storm. A no-frills, no-nonsense mini SUV. It's so popular, some people have taken the Duster inspiration one step further, like this Dacia-employed duster, dusting the Duster with a duster.
Category: Worst Name
Winner: Gumpert Explosion
Normally this category is an easy win for the Chinese, with their washing machine inspired nomenclature such as Dongfeng's EQ7240BP. However, the Germans refuse to stay 2nd best for long.  At Geneva they revealed the Gumpert Explosion, which sounds like a non-technical name for a sausage-induced underwear accident. Also, I can imagine it being slightly unnerving driving something that quite explicitly suggests it might explode.
Category: Smallest Parcel Shelf
Winner: Fiat 500
Some people buy the Fiat 500 for its charming looks, others due to the bewildering array of customisation options available. All of them are willing to overlook the parcel shelf, which is so miniscule, that not even a box of tissues will fit on it, thus explaining the sole reason why this car has proved unpopular with Asian taxi drivers.
Category: Best Windscreen Obscuration Print
Winner: Jeep Cherokee
A new category added this year, with just one entrant, since nobody has previously sat down and thought "What we really need, chaps, is a silhouette of a very old model of our car in the black bit that is printed on the edge of the windscreen". If you were ever wondering what Chrysler was spending the bail-out money on, you now have your answer.
Category: Most Inappropriate Wipers
Winner: Maserati GranTurismo
Maserati spent a lot of time coming up with creative places to put carbon fibre on their latest supersports version of the GranTurismo. Unfortunately, by the time they finished, it was time for lunch, and they still didn't have any wipers. So they did what any Italian would do, and borrowed a set off a 1980's Fiat Panda out in the employee car park.
Category: Worst Colour Match
Winner: Alfa Romeo Mito Cloverleaf
Manufacturers spend dozens of man-hours on every show car to give them extra lustre, exciting paint colours, and a flawless mirror finish. Alfa Romeo decided to take a different approach. Not only did they paint their Mito in matte tarmac grey, but they also somehow managed to paint the front bumper in slightly-different-sort-of-tarmac grey.
Category: Most Retro Aerial
Winner: Jeep Rubicon
In a year when even the Tata Bolt comes with a semi-decent looking radio receptor, Jeep's Rubicon is still utilising aerials that were discovered in a factory clearout 20 years ago. The head of PR at the stand said that this was their contribution to efficiency and recycling, and provides the driver with a make-do sword should an impromptu fencing match break out in traffic.
Category: Best iPhone Holder
Winner: Kahn RS600 Range Rover
We all know how much rich people love Apple products. Kahn employ a team of fibreglass bumper makers, painters, and interior upholsterers. So when they decided to cater to their customer's requirements for additional phone holders in the new Range Rover, a quick game of rock-paper-scissors landed this task to Mr. Upholstery. He proceeded to promptly integrate these into the achingly unsubtle rear seat trims.
Category: Best Towel Rail
Winner: Klassen LWB Mercedes Van
On the way to the motor show, my friend Huw managed to spill an entire box of meatballs onto himself. And the car. We prayed, wished for a towel, alas our Range Rover did not possess such a feature. Klassen have identified this customer requirement in their latest LLLLWB Mercedes van-based van. There is a towel rail just as you open the tailgate. Towel not included. In fact it might not even be a towel rail?
Category: Most Extravagant Rear Seat Entertainment Screens
Winner: BMW 3-series GT
Luxury these days is determined by how many inches one has to look at when sat in the 2nd row of seats. BMW have pulled all the stops out, and installed a 40″ LCD screen to claim the honours. Unfortunately, the only place they could fit it was in the boot. More unfortunately, the 3-series GT is a "fastback", which is code for "not-really-practical-estate-car-back", so the screen does not fit vertically, and there is no 3rd row of seats. Therefore this screen is aimed squarely at low-flying aircraft that are stuck behind you in traffic and wish to see a giant reproduction of your sat nav screen. Call me Mr. Sceptical, but I fear this may be a rather limited niche.
Category: Best Moustache
Winner: Toyota Aygo
A category usually dominated by German CEO's, this year was taken by a Japanese cartoon-inspired car. Yours truly making the most of Toyota's freely-provided false facial hair.
Category: Best Ski Holder
Winner: The Roding Roadster
Given Geneva's location, within snowball throwing distance of the Alps, ski accessories were high on the agenda. Roding decided that skis are more important than non-necessities such as a gearbox or engine, which were promptly discarded to allow you to slot your favourite snow-sliding planks under the bonnet and into the transmission tunnel of their new Roadster.
Category: Best Disease-Inspired Interior
Winner: Tata Nexon
Lost for ideas on what to do with an expanse of glass in the form of a panoramic roof, Tata decided to print spots on it. When the sun comes out, the entire interior, inclusive of any passengers, instantly gets transformed into an automotive chicken pox special. I am assured by the boffins at Tata that this is "just a visual effect" and that passengers "will not be subject to the bubonic plague".
Category: Best Non-Metallic Blue Sports Estate
Winner: Audi RS2 Avant
What, a super fast, Ikea-storage-box blue estate that ISN'T a Jaguar? That's right, this year there was much competition to the blue cat, the best of which was this spectacular looking RS2. Ironic, given that they don't make it anymore.
Category: Best Front Bumper Seats
Winners (Joint): Jeep Wrangler & Lexus RC350F
Seating innovations are few and far in between these days. There's only so much you can do with the chairs in a car. The Japanese and those clever guys at Jeep are thinking outside the box. Outside the car even. Both feature innovative forward-facing seats on the front bumper. These should only be used as occasional or event seating, as neither company has yet confirmed the NCAP rating for passengers occupying these novel positions.
Categories: Uncategorized